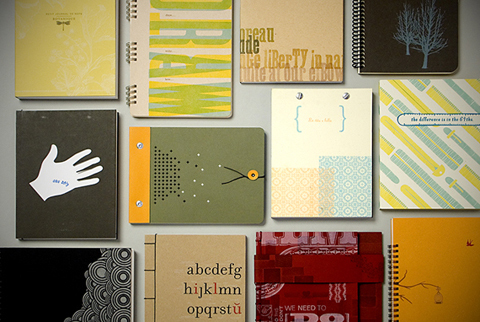 Jason McDaniel is used to printing killer letterpress invitations and cards. And it's not that he doesn't love his work at Dallas' trendy Miss Q Press, but when McDaniel was invited to participate in The Feedback Loop project, he thought it would be fun to challenge himself to do something outside of his normal routine.
So he letterpress-printed a journal, something he'd never before tried, the sales of which will benefit kids all over the country.
Mohawk Fine Paper and Design Ignites Change teamed up recently to create The Feedback Loop, a project using the new Mohawk Loop grade as a catalyst for change. In exchange for free Loop paper from Mohawk, twenty-five leading letterpress printers, including Missing Q, were asked to create fifty unique notebooks. These limited edition books are now being sold in a special storefront on Felt & Wire Shop. 100% of the proceeds will go to Design Ignites Change to support the youth mentorship program School: By Design.
McDaniel says the printing part of the project was easy (he printed the covers by hand on his Vandercook #4). It was the bindery that was new for him. His journal was inspired by a vintage french botanical fieldbook he stumbled upon at an antique shop this summer. "I was really inspired by the fact that someone carried this little journal around studying plants, and so the fieldbook became the inspiration for my notebooks." Plus, the word "letterpress" looks really awesome in French (Impression Typographique!). "I have never done any bookbinding professionally, so I wasn't sure how to go about this in terms of a finished notebook," he says. But you'd never know it from the finished result.
Project leader Laura Shore is impressed by the work of all of the participants, now on sale at Felt & Wire Shop. "Some of the best letterpress printers in the country are involved in the project, so I knew they'd be good. But I didn't know they'd be this good. It all started with the simple idea that Mohawk wanted to be a positive catalyst for social change, and, we wanted to get printers to try our new paper, Loop."
She says she thinks they'll sell out quickly. "We set a low fixed price on all the notebooks: $15.00, which includes shipping and handling. Our goal was to raise money quickly and test this as a model for future social ventures."

That would make Design Ignites Change founders and Worldstudio partners, Mark Randall and Andréa Pellegrino, happy. All proceeds for The Feedback Loop go directly to School: by Design – a Design Ignites Change and Designers Accord youth mentoring initiative. "We're challenging high school students – in collaboration with their college or professional design mentors – to 'redesign their school.' A $10,000 award will be granted to the high school with the most innovative project to implement their idea," says Pellegrino.
McDaniel adds, "I hope every single notebook sells so there is a generous donation made."