Worldstudio is pleased to announce the Summer 2011 Design Ignites Change award winners. Recognized projects include innovative uses of commonplace tools and materials such as text messages and timber, demonstrating how design and architecture students are working to address social issues facing a wide range of communities.
The mission of the awards is to support the actual implementation of student led solutions to pressing social issues. This round's top grants went to Nudge, from students at the Austin Center for Design, and Blank Plate, from students in the Transdisciplinary Design studio at Parsons The New School for Design.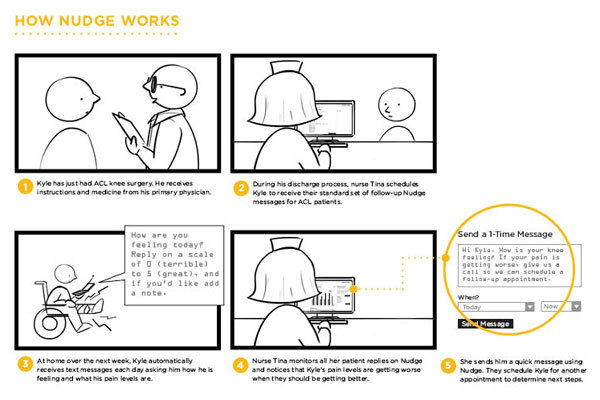 Nudge is a simple yet unique web-based platform for the healthcare industry, designed to improve contact between case managers and their patients by "prescribing" the patient with follow-up text messages – a ubiquitous and user-friendly form of communication. Currently, 50% of patients fail to follow their treatment plans. Once implemented, this project has significant potential to improve a user's health by helping them to adhere to treatment and facilitate the recovery process. The $6,000 of funding from Design Ignites Change will go towards prototyping the text- and internet-based system with a local community health organization in Austin, TX. Nudge is also a member start-up project with Rock Health, a seed accelerator for health apps.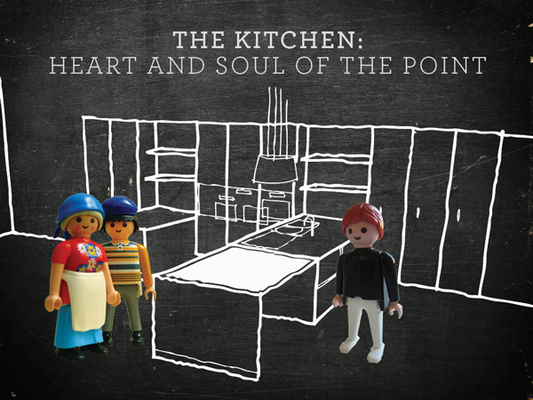 Blank Plate received $5,000 to implement a project around healthy eating in the South Bronx; a neighborhood plagued with food-related health issues and limited access to affordable fresh produce. Parsons students will work with The Point, a local community arts organization, on an opportunity for teens in Hunt's Point to "re-imagine their relationship to food" through an innovative program that will include an experiential cooking workshop and a picnic dinner hosting members of the community. A bulk of the funding will go towards upgrading The Point's existing kitchen to be more functional, safe and conducive to host the Blank Plate or other future cooking programs.


Two projects currently in progress at Auburn's Rural Studio were also granted funding to help architecture students design and build structures for the community of Hale County in West Alabama. The Thinnings Bathhouse not only promises to deliver a stunning design for a restroom and bathing facility at the Payne Lake Recreation area in the Talladega National Forest, but the project will also add to the developing body of knowledge about how architects and engineers can better use "thinnings" – a sustainable timber abundant in the region. The Community Courtyard for Newbern – a much-needed gathering space for the small town of Newbern, AL – provides a place for social interaction among disparate community groups that will be situated between the firehouse and town hall.

In addition to supporting implementation, awards are given to honor great ideas. For this round, The Grand Assembly, a project from a student at the School of Visual Arts was recognized for its concept of an online community that showcases older (60 years+) creatives to a wider audience through their craft and life stories told in the form of individual video portraits. This project engages young and old generations in a new way in an attempt to make each group more socially relevant to one-another. The Bikes for Students project from a student at the Art Institute of Austin received honorable mention, as the judges appreciated the simple and targeted local idea.
Members of jury with the honor of reviewing these inspiring projects were: Sonya Dufner, FASID, LEED AP ID+C, Associate Principal & Director of Workplace at Perkins+Will; Laetitia Wolff, the Founder of FutureFlair; Gabriela Mirensky, the Director of Competitions & Exhibitions at AIGA; and Richard Jennings, the Vice President of the Communication & Design Group at WEA Corp./Warner Music Group.
Wolff had this to say about the difficult jury process, "As a judge, I felt particularly responsible to identify the projects that would grant a cash award, knowing that this support might make a budding talent's dream come true or potentially break it. It was quite humbling."
The next awards deadline for 2011 is December 31st.
Design Ignites Change – an initiative of Worldstudio – is an annual program that promotes and encourages talented high school and college students from across the country to use design thinking and innovation to develop actual projects that will benefit their own communities while giving them voice around important social issues.