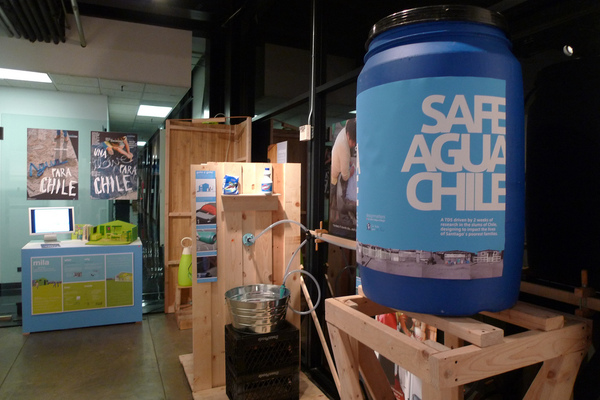 Design Ignites Change will begin to profile participating college and university design programs that are integrating a socially responsible agenda into their curriculum and dedicate resources to support students as they use their creativity to make a positive impact in communities around the world. We'll begin with Art Center College of Design's Designmatters, one of today's most robust social design programs, with an outstanding portfolio of powerful projects.
Designmatters was founded in 2001 by Mariana Amatullo, Designmatters VP, and a college-wide task force that set out to shape an innovative pedagogical framework that would integrate global and local issues of critical urgency across all educational departments at the school. Today, the Designmatters mission remains as dynamic as then: "to engage, empower and lead an ongoing exploration of art and design as a positive societal force." The program emphasizes four key thematic areas of inquiry: public policy, sustainable development, global healthcare and social entrepreneurship. In 2010, Art Center introduced the Designmatters Concentration in Art and Design for Social Impact, which is a formal course of study that students may elect to pursue as part of their chosen discipline at the college. For graduate students, the new Media Design Matters track, within the Media Design Program, challenges students to design for communication technology at the intersection of public policy and social change.
Designmatters is quite unique in its rigor and emphasis on developing partnerships in order to develop and execute student projects. Elisa Ruffino, Designmatters Director, says, "The diversity of actors and supporters that engage with Designmatters allows us to constantly learn new ways to reposition design education in the context of action and to interact with disciplines other than design in a larger world context."
Over its ten-year span, the program has collaborated with a diverse range of partners and funders, from non-profits to government agencies to corporate leaders and national foundations, including:
» UNICEF
» Doctors Without Borders
» American Red Cross
» United States Geological Survey
» National Oceanic and Atmospheric Administration
» GE Healthcare
» Nathan Cummings Foundation
» Surdna Foundation
» Engineering Department at Princeton University
» Mechanical Engineering Department at the California Institute of Technology
Safe Agua Chile, a Designmatters project with the Environmental and Product Design Departments at Art Center, and showcased on Design Ignites Change, is a great example of how a solid partnership can exponentially increase both the quality and impact of a project. The focus of this project is to develop new tools, products, systems and methods of storing, utilizing, transporting and conserving water in order to help break the cycle of poverty in "campamentos" (slums in Chile) and transitional housing communities built by their NGO partner, Un Techo Para Mi Pais.
After a massive earthquake struck Chile in February 2010, Un Techo was named the official NGO for the country's reconstruction effort, and deployed several of the student designs at various scales. Presently, the Innovation Team of Un Techo continues to work with Art Center to test refined prototypes of products such as Narbeh Dereghisian and Yessica Yeh's Ducha Halo shower system. Once again, partnerships (with other government agencies and corporations) are driving the scale of field-testing and implementation. For example, in Argentina, Ducha Halo is being packaged and sold as a DIY kit.
In addition, Stephanie Stalker's Mila Laundry Community Center concept, also borne from the Safe Agua Chile project, has been implemented in Chile at a scale of 10 centers that are running in the transitional communities built in the coastal region struck by the quake. Thanks to a sustainable vision grant from the National Collegiate of Innovators and Inventors Alliance (NCIIA), this fall Designmatters is on its way with a new group of students and the lead faculty of Safe Agua Chile to Peru, where the project will be expanded upon with families in slum settlements served by the team of Un Techo's field office in Lima.
When students see their projects implemented in the real world, as with the Safe Agua Chile project, it empowers them to use their talents and ideas to really make a difference throughout the rest of their college career and beyond graduation. Strong partners like Un Techo that take the lead on implementation but also co-facilitate the design research process and conceptualization of such design briefs—so that these may in turn become truly relevant beyond the studio walls—are invaluable to a student's learning experience.