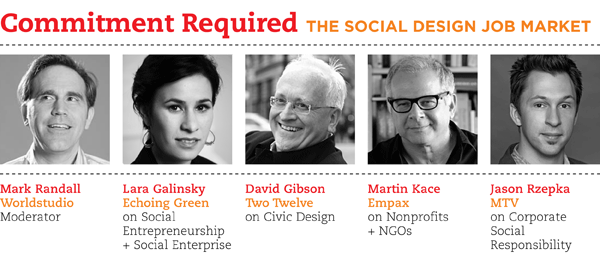 Impact! Design for Social Change – a School of Visual Arts, six-week summer intensive – affiliated with Design Ignites Change, recently hosted an event called "Commitment Required: The Social Design Job Market." The sold-out presentation and panel discussion moderated by Mark Randall, a Worldstudio principal, received an extremely enthusiastic response from students and creative professionals in the social design field. Offering insight into this rapidly expanding job market, the speakers shared their experience from the perspective of various sectors of the industry:
» Martin Kace, Founder of Empax, spoke about non-profits and NGO's
» David Gibson, Founder of Two Twelve, spoke about civic design
» Jason Rzepka, VP of Public Affairs at MTV, spoke about corporate social responsibility
» Lara Galinsky, Senior Vice President at Echoing Green, spoke about social entrepreneurship and social enterprise
This diverse group of speakers gave a well-rounded overview of how designers today can meaningfully engage in work that makes a positive impact on society and actually make a living at the same time. The event was filmed and the free video is now available for download from iTunes U for those interested in this topic but who were not able to attend.