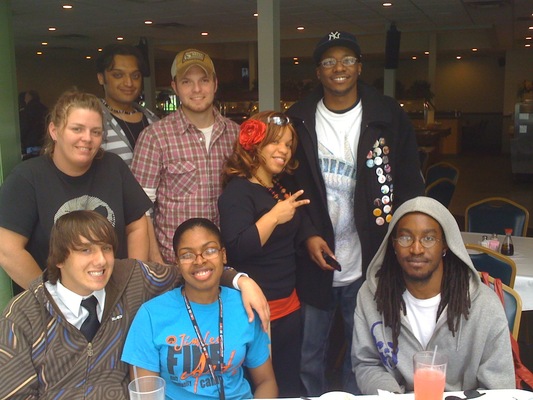 Above: Members of Studio 205 celebrate their success together. From left, back row: Amber DeClercq (Graphic Design major); Sage Ahmed (Business major), Kevin North, Brittany Mitchell, DeMarcus Smith (Graphic Design majors); front row seated: Albert Jencic and Sparkle Anderson (both high school students dual enrolled at the college), and Kenny Little (Fine Arts major). Missing: Lindsy Avenall (Art Ed major), and Monica Barosso (high school student).
Background – Studio 205 is the public name we gave the Design Center Studio course that was created after a club of the same name was dissolved awhile back. The club's demise was due to a variety of factors, most mostly because of the heavy demands of student government, leaving little time for actual design projects. The club was replaced by a credit-bearing course that students of any major could register for 1 or 2 credits per semester.
Getting involved in DIC – This past Winter, through the encouragement of the Design Ignites Change program, we invited instructors from a high school visual communications program that serves the entire county to nominate several of their students to enroll in the course for college credit. The regular college students would act as mentors to the younger participants. We had three high school students enroll and I'm pleased to report that two of them have decided to continue their college studies at Mott as a result of their experience.
But as for the semester's experience, I'd like to share these thoughts.
Success – In our case, I think it can be measured in many ways. The actual quantity of design projects created this past semester may seem small. But the projects that were endeavored are larger and longterm. We had a wide range of design skills involved, as well as college-study work habits. So the first challenge that I feel was successful was to give the students the design-thinking experience. Brainstorming activities became a large part of their training. Getting them to connect ideas, expand relationships, and problem-solve on larger issues and use this as the stepping off point to making change in their community.
The Focus on Community idea was a result of this brainstorming. Studio 205 students represented all walks of life, and majors from Business/Accounting to Fine Arts to Art Education to Design. The process of brainstorming brought them to a level of mutual understanding and respect, not to mention camaraderie.
Implementation – Sometimes a project of this nature just seems too large to even begin. The students began to see how they could start in small steps, beginning with the simple message that the "focus" should be on rebuilding the concept of community in Flint. A logo and a series of "heart" symbols that could be used on t-shirts or buttons, and several posters were designed for the project. This fall these items will be refined and produced, then with a little guerilla marketing, they'll be introduced around campus and the city of Flint.
Future – The current challenging economy is having an impact on our future plans and this is cause for concern. High Schools may be reluctant to allow their students to participate through the credit approach because it leads to tuition costs. Current college students may not be willing to enroll in a course that is not absolutely "required" for their major. The new semester starts in just a couple of weeks and, while enrollments college-wide are extremely high to the point of bulging, this program is at risk. My challenge will be to find ways to keep it viable by getting it in front of students as a means of their gaining valuable skills and potential job and community connections.
Wish us luck!
~ Mara Jevera Fulmer, Associate Professor/Program Coordinator in Graphic Design
C.S. Mott Community College
Flint, Michigan
8/22/09
[Note: Community Colleges like mine are seeing huge surges in enrollment while still working with limited resources and class availability.]