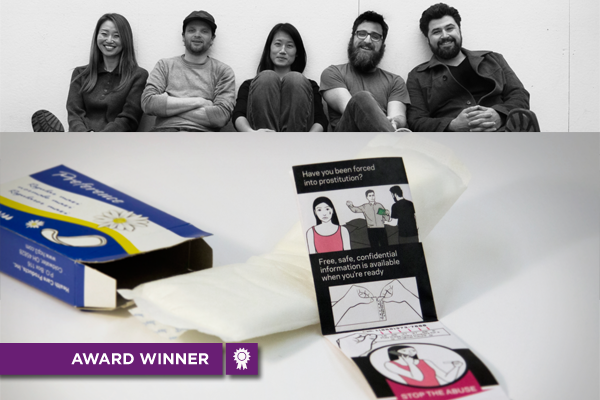 Design Ignites Change celebrates the power of design to amplify quality of life with this announcement of the 2013 Design Ignites Change Idea Award winners. These awards recognize student designers that tackle socially-conscious problems, giving visibility and support to bold ideas for positive change.
The grand-prize winner of $1,000 is Pivot: Empowering Trafficked Victims from a team of graduate students at the University of Washington's Division of Design. Mike Fretto, Kari Gaynor, Josh Nelson, Adriel Rollins and Melanie Wang tackled an extremely challenging problem – how do you communicate to potential sex trafficked victims, letting them know that help is available? This audience, of mostly young women, very often does not self-identify as victims of trafficking and could also be severely punished if their captor discovers that they have been communicated with about getting help.
The student design team worked closely with members of the anti-human trafficking community in Washington state and in particular with WARN (Washington Anti-Trafficking Response Network) and WashACT (short for Washington Advisory Committee on Trafficking) to develop this "Surreptitious Communication Device," which is a solution that crosses many design discipline boundaries incorporating product design, interaction design, service design and visual communication design.
The next step for Pivot is to focus on manufacturing and distribution; the team is in the process of strengthening its existing partnerships and seeking new ones to accomplish this. In the future they hope to explore the idea of discreet communication to other products in order to reach human trafficking victims who would not use sanitary pads, such as men or children.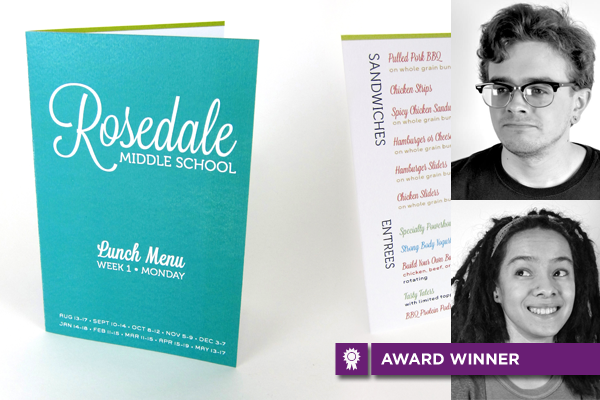 Protein Pods and a New Coat of Paint, a project from students Erika Goering and Michael Van Jumper at Kansas City Art Institute, is one runner-up with a $500 award. This project comes from a partnership with the Graphic Design department at KCAI and several key organizations in the near-by community of Rosedale—a neighborly relationship that has continued from the spring 2012 semester. This project targets the issue of childhood obesity through an environmental graphic design makeover of Rosedale Middle School's cafeteria. With strategies such as a lunch line reversal so healthy foods are seen and acquired first and two types of menus with healthy items renamed to be more appealing, the space is redesigned to make the cafeteria more conducive to healthier eating habits.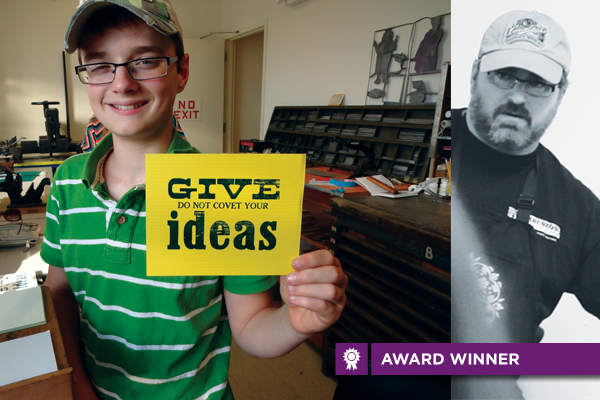 The other $500 runner-up is Mobile Letterpress: Proof of Concept, from Troy Patterson at the Vermont College of Fine Arts. Patterson's vision is to compress the essential parts of a letterpress studio into a small mobile unit, bringing the empowering experience of creation through this venerable printing technology out of the studio and into his community. His heart-warming video is a must-see!
This video has been removed.
This round's jury members were Alessandro d'Ansembourg, Director of Social Impact at the design firm Zago; Andrew Shea, designer, educator and author of the book Designing for Social Change; and Eli Malinsky, Executive Director of the Centre for Social Innovation NYC. The jurors had a great experience reviewing the projects, but they were very torn at times because many of the submitted projects were inspiring enough to have been selected as winners. Not only did the number of Design Ignites Change Idea Award applicants dramatically increase this round, but the quality of the projects have also escalated, which we believe is proof of a forceful socially-conscious shift in the design industry. Design Ignites Change is proud to be a champion and a supporter of this revolution; we are honored to continually witness the imagination and impact of inspiring designers like these that use their creative talent for good.