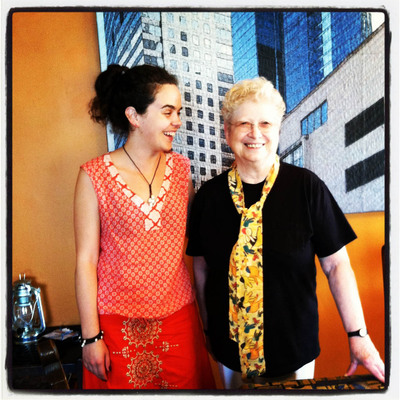 It's summer in Alabama, which means it's hot. It's so hot that people's brains melt and their energy drops to low. It's all you can do to get from point A to point B without falling out from the heat and the humidity. And it's times like these that folks keep real still. So still you'd think we were all dead or asleep and most of us are dead asleep. We'll be this way until the months start taking on a "-ber" or a Brrrrrrrr, if you like.
Needless to say, the Sew-Op is quite still this month. We worked so hard to get ready for QuiltFest and were so successful that folks are very happy to sit around and just talk each Tuesday. There are a few die-hards who arrive each week with sewing machine and quilt project in hand, but overall we are definitely taking a break. It is a time for contemplation of the next big project. With this in mind, I sought out a kindred spirit up in NYC on a recent jaunt up to the city from Birmingham.
Bless the Internet! One of our donors from Kickstarter introduced me to Marilyn Henrion and her totally awesome Kickstarter campaign from last year, "Send Grandma to Poland!" From the music she plays in the video to the connection with Poland to her literary interests and her prolific nature, I immediately fell in love with Mrs. Henrion. I noticed she was from New York and wrote to her immediately on the off chance that A. she was in the city and B. would be willing to meet a nut from Alabama. She wrote back just before I headed out of town and told me she'd be in the city for a day, which happened to be the same day I, myself, planned on being in New York! Kismet! Already!
On the appointed day, I tucked a Tré Lilli scarf in my dyed-grass basket and made my way through the village, in search of Mrs. Henrion's high-rise. I found it easily and scooted up to her door, where I was embraced and taken into an apartment full of Mr. and Mrs. Henrion's artwork. Prolific she is, and modest too! I only found out upon returning to Birmingham and watching a DVD Mrs. Henrion gave me, that she and her husband were friends with Joseph Cornell, who was my all-time favorite artist in high school.
Mrs. Henrion listened to me gushing about Bib & Tucker and told me that in the 70?s or 80?s, she started a similar group at a women's homeless shelter near her home in Greenwich Village. The women made quilts for their beds and when people came into the shelter and saw the rows of beds, they were covered in colorful, glorious hand-made quilts. She introduced me to the controversy of Eli Leon and to the unconventional "textile" creations of El Anatsui. Hopefully, oh hopefully, my conversation with Mrs. Henrion has just begun.