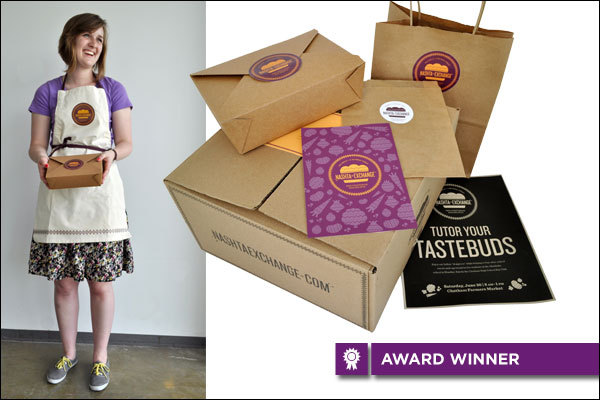 Designers from the United States interested in social impact are often eager to explore how they can reach people in developing countries. Problem solving across oceans can sometimes be problematic due to lack of cultural knowledge or sensitivity on the designer's part, but the two winning projects for the 2013 Design Ignites Change Student Fellowship have great potential to overcome this challenge. Both projects, coincidently, are striving to make change through design in Mumbai, India, and are innovative and thoughtful solutions that we anticipate will make a meaningful difference in the lives of many individuals there.
The Far(m)ore project comes from a group of students at the NMIMS's Balwant Sheth School of Architecture in Mumbai, lead by alumni Gaurav Sardana, that are working in their own backyard; their project aims to explore small-scale cultivable green spaces on the roofs of urban slums. The jury's other top project, Nashta Exchange—Noopur Agarwal, a graduate student at Temple University's Tyler School of Art—is a program for American high school students to operate a food stall where all of the proceeds go towards buying meals for underprivileged students in Mumbai. Each of these projects will receive support valued at $5,000; the award includes funding to cover materials and services to implement their projects, an honorarium for the design student and at least one mentor to oversee their project and provide professional advice.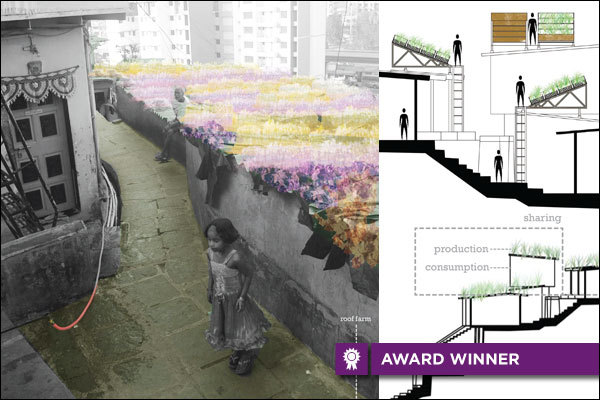 Far(m)ore's target audience represents a very vulnerable population in their city: urban slum youth and young married women. The architecture students—in collaboration with alumni, engineers and their partner organizations—will work with locals to build food-production capabilities and green space on their roofs in hopes of creating economic opportunity for the informal settlement residents. Far(m)ore plans to work with local laborers and use local materials, which will give an additional boost to their economy. It is a very ambitious project, but they will be starting out small; the award money will go towards building 20 prototypes to test production, feasibility and adoption by the locals.
Nashta Exchange aims to bring student groups together across boarders by means of food diplomacy. A tool kit will be developed that will make it easy for American high school students to set-up a food stall with traditional Indian cuisine in their community. Through a social media platform, a partnership will be developed with the group of American students and a group of Indian students from an underserved school where Noopur taught last year that will receive the proceeds from the food sale; American students learn about Indian culture while Indian students get meals to help nourish themselves and their families. The Fellowship funding will go towards building the website and the supplies for one prototype kit and it's implementation, but this project is potentially very scalable and we hope that it grows to have participation from many high schools across the country.
The jury for this round of awards had a difficult task picking a winner, as many of the projects submitted were of an extremely high caliber. The panel included: Joshua To, Partner, Hattery; Brian Singer, Manager, Communication Design at Facebook; and Lee Davis, Co-founder, NESsT. Design Ignites Change continues to see the quality of applications submitted increase with each round of awards. This is undoubtedly due to an increase in conscientiousness among design schools as they continually incorporate more of a social agenda into their curriculum. Applications were submitted from students at top schools such as Harvard Graduate School of Design, Austin Center for Design, Maryland Institute College of Art, Parsons the New School of Design, School of Visual Arts, and Pratt Institute. Design Ignites Change is thrilled to showcase these winning projects and to continue providing support to the growing number of design students interested in using their creativity to make a positive impact in communities local and global.
Far(m)ore Team
Student Design Team: Ami Matthan, Avinav Venkat, Harsh Shah, Kavita Garg, Siddhant Tikkoo, Sohil Soni (class of 2014)
Project Coordinator : Gaurav Sardana (Office Parallel | Graduate NMIMS BSSA 2012)
Teachers: Anand Pandit. Dipal Kothari-Chhaya, Trilochan Chhaya