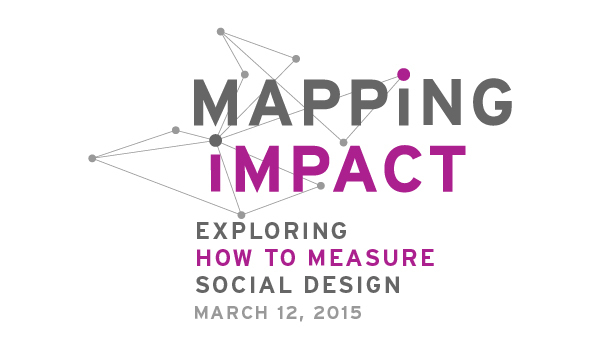 PLACE: School of Visual Arts, New York City, 136 West 21st Street, # 418F
TIME: 6:30 – 8:00 p.m.
RSVP: Click here to register for free – tickets are limited
Over the past decade there has been a great deal of funding and resources devoted to community-based design work—from architecture and urban planning to graphic and product design—yet there have been far fewer resources devoted to assessing the impacts these projects and initiatives have had on the communities and individuals they claim to affect.
Join us for a panel discussion on March 12 with four experts in impact measurement to explore and discuss what designers can learn from how other fields think about impact measurement. With rich backgrounds in various disciplines, our panelists will provide a wide range of expertise and knowledge from public health, impact investing and poverty reduction, to city government, design, and social science.
Each panelist will give a brief presentation, sharing insights from their field of work on the process of impact assessment, followed by a group discussion on what designers can learn.
PANELISTS
Sasha Dichter, Chief Innovation Officer at Acumen
Robert Fabricant, Co-founder and Principal of Dahlberg's Design Impact Group
Chelsea Mauldin, Executive Director of Public Policy Lab
Rachel Dannefer, NYC Department of Health and Mental Hygiene
---
Sasha Dichter
In his role as Acumen's Chief Innovation Officer, Sasha oversees Acumen's work in metrics and impact; Acumen's Global and Regional Fellows Programs and +Acumen; and he is responsible for developing new financial products for Acumen. Sasha is also a noted speaker and blogger on generosity, philanthropy and social change, the author of the Manifesto for Nonprofit CEOs, and the creator of Generosity Day. His talks have been featured on TED.com and at the DO Lectures and he has been recognized as an Innovation Agent by Fast Company, a top 10 Business Bloggers by Say 100 Media, and his writing has been featured by Harvard Business Review and Stanford Social Innovation Review. Sasha is proud to serve on the Executive Committee of the Aspen Network for Development Entrepreneurs (ANDE). Sasha's previous work experience includes positions at GE Money, IBM, Bank Rakyat Indonesia, and Booz Allen Hamilton.

Robert Fabricant
Robert Fabricant is a frog Fellow and the Co-Founder of Dalberg's Design Impact Group (DIG), where he brings human-centered design and innovation services to clients looking for new, creative approaches to breakthrough innovation and expanded collaborations in the field of social impact and international development. Robert writes about Design and Social Impact for publications like HBR, SSIR, Fast Company, Rotman Business Journal, MIT Tech Review, ChangeObserver and Core77. He is a sought after speaker on topics ranging from design to healthcare and mobility. Recent speaking engagements include Poptech, SXSW, IxDA, Mayo Transform, Harvard Business School and others. He has won numerous design awards including 2009 & 2011 IDEA Gold and 2009 Index Award Finalist.

Chelsea Mauldin
Chelsea Mauldin is a social scientist and strategic designer with a focus on public-sector innovation. She directs the Public Policy Lab, a New York City nonprofit dedicated to improving the design and delivery of public services. The Public Policy Lab partners with government agencies to develop more satisfying and effective services through user-centered research, design prototyping, testing, and evaluation. Find out more on <a href="http://www.publicpolicylab.org/" target="blank" PPL's website or on Twitter at @publicpolicylab. Previously, Chelsea has led a community-development organization, overseen government partnerships at a public-space advocacy nonprofit, and consulted to municipal and federal agencies. She is a graduate of the University of California at Berkeley and the London School of Economics.
Rachel Dannefer
Rachel Dannefer conducts evaluation and research related to food and nutrition at the New York City Health Department's Bureau of Chronic Disease Prevention and Tobacco Control. This Agency and Bureau are noted as being among the premier sources of both innovative and evidence-based public health policy and programs to improve the environment in which New Yorkers live. Rachel has conducted a range of research projects designed to understand the food environment, and has led several evaluations to assess the effectiveness of programs to improve access to healthy foods and provide nutrition education to low-income New Yorkers. Rachel's previous work experience includes serving at Greenmarket as the founding director of a program to support immigrants in starting their own farms in the New York area, and working at Heifer International. She received her Master of Public Health and Master of International Affairs from Columbia University.
---
Presented in collaboration with: