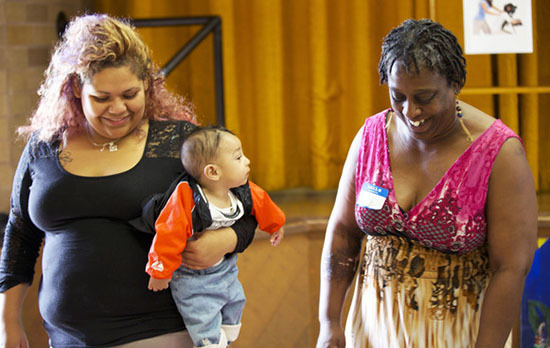 Leveraging the Power of Grandmothers
Design Ignites Change and AIGA are pleased to announce the 2015 Sylvia Harris Citizen Design Award winner, Gma Village. The winning entry – developed by (from left to right, below) Catalina Garcia, Johnna Flood and Maggie Ollove – comes with a $10,000 prize. The Gma Village is an affordable childcare service for low-income families in Oakland, California that leverages local grandmothers as trained and trusted providers.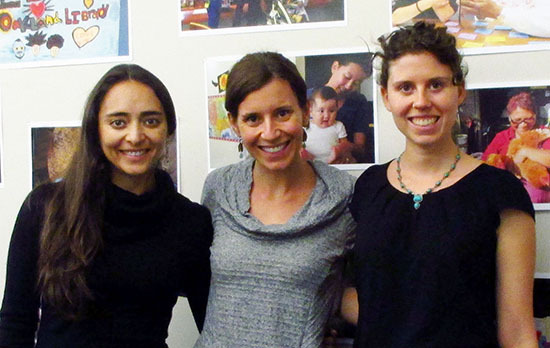 The Challenge of Childcare
Maggie, Catalina and Johnna met at the T-Lab, a six-month social-innovation program that brings together problem-solvers to design and test new solutions in the fight against poverty in the San Francisco Bay area. The six-month program, administered by the Tipping Point Community, challenged participants to explore solutions that would address pre-kindergarten, community reentry and access to affordable childcare.
Childcare is an expensive prospect for most parents, but for low-income parents it is prohibitive, often keeping them from work or going to school. In the State of California, assistance is available, but with 200,000 on the childcare subsidy waitlist and an average waiting period of four years, most low-income parents are unable to benefit from this scarce resource.
Catalina and Johnna had experienced difficulty in finding reliable childcare for their children. Both had access to options, but they were expensive and designed for their traditional 9 to 5 work schedule. The team wondered what families struggling to make ends meet did, especially if they worked odd hours or went to school in the evening. Catalina says that the "the purpose of our project is to provide low-income families with an affordable child care alternative that is responsive to their schedules."
Although they had personal experience with issues around childcare, what really drove them forward were the stories they heard from families throughout West Oakland, a low-income community in the Bay area. "Many had to make tough decisions and chose between working and leaving their kids in unfavorable situations, or not working and staying in poverty," says Johnna.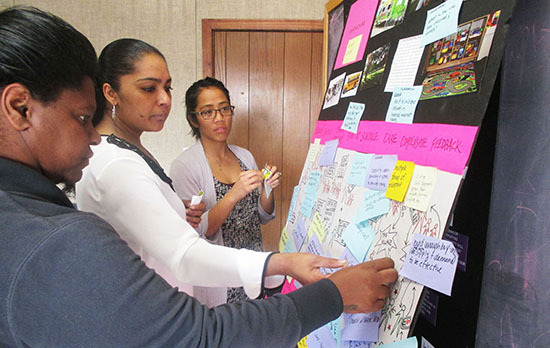 The Solution
Through an embedded service-design process, the team engaged over 100 community members to help them identify childcare needs and desires, prioritize concepts and test potential solutions. They found that while parents – predominately single mothers – very much need childcare, they are reticent to trust most providers and desire a more personal relationship. Maggie relates, "we met many (grandmothers) who have ample time, the desire to be with kids and to support the community." Leaving their child with a trusted elder from the community gave the parents confidence.
Out of this process, the Gma Village was born. This service leverages a powerful community asset – grandmothers – to meet the need for childcare in a way that is both affordable to parents and beneficial to providers.
Currently the team is building out and protoyping the program in West Oakland through a participatory model that engages the community in the process. They partnered with Bananas a nonprofit child care resource and referral agency that serves a wide range of families in the area. Together they are building the Gma Village into a network of grandmothers who can offer a caring alternative for low-income families.
By the end of this phase they plan to have a holistic child care service co-designed by and in service of low-income communities. Johnna reports "we continue to attend parent meetings and visit the library and parks in West Oakland. Weekly, we get asked what is happening with Gma Village. There is great interest and determination for this to be a success."
Affordable and reliable childcare is a need in all communities and the potential to scale this program is enormous. Parents will have access to trustworthy childcare which will allow them to work or go to school and escape the cycle of poverty, grandmothers can find fulfilling work that supplies them with supplemental income and children get consistent quality care.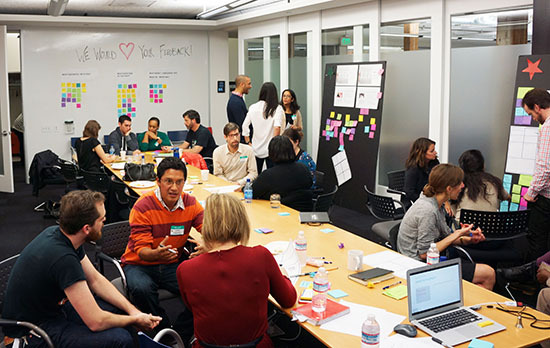 The Gma Village Team
Maggie Ollove started her career in the non-profit world, and moved into design through the MFA Transdisciplinary Design program at Parsons in New York. Since then, she has been dedicated to introducing human-centered design to new audiences; both as faculty at Parsons and to clients working on complex social challenges.
Catalina Garcia Catalina Garcia was formerly a partner and creative director for a New York City design consultancy. She is dedicated to addressing social problems by using design-thinking methodologies and recently worked with the San Francisco Unified School District to re-imagine the future of public education in the city.
Over the past twelve years, Johnna Flood has worked in the social sector engaging with communities to create and redesign programs. She has developed and evaluated projects ranging from breast cancer and HIV to early childhood education. Johnna is now committed to embedding design thinking and collective impact in her social entrepreneurship work moving forward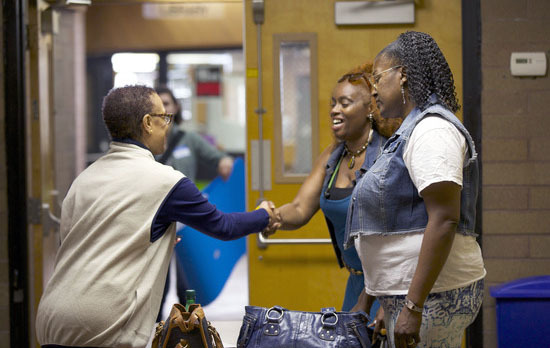 The Award and Jury Process
The 2016 award jury with expertise in a diverse range of social design issues included: Humberto Arevalo, principal, Erre Architecture; David Gibson, co-founder and managing principal, Two Twelve Associates; Chelsea Mauldin, executive director, Public Policy Lab; and Kyle Reis, Tech Soup Global
Sylvia Harris (1953 – 2011) is widely recognized as a pioneer, a generous mentor and a vital inspiration in the field of social impact design. This award – established to celebrate her life and indomitable spirit – is presented by Worldstudio, the strategy and communications firm known for their work towards positive social change and AIGA, the professional association for design, in collaboration with Harris's family, friends and supporters to honor her legacy by recognizing other vanguards dedicated to public design.
This year the process was especially challenging for the jury as all five finalists (listed below) were worthy candidates. Sylvia was a believer in creating deep networks of support to build communities. Giving older women, who are often overlooked, a sense of purpose while linking generations together is in keeping with what she would have wished. The jury ultimately felt like Gma Village was the project that most closely aligned with her vision.
Juror David Gibson said of Gma Village, "it is impressive how the program leverages and supports the community in such a deeply human way." Chelsea Mauldin added, "the fact that the end-users are being engaged to help design the program means the eventual service can better reflect actual community needs." The careful research and sustainable manner in which the Gma team is building the program in partnership with Bananas gave the jury confidence that it will be a success.
Gary Singer, Sylvia's husband, related a moving story after the jury process. Their daughter was born three months premature at a pound and a half. In order to ensure her best chance for survival, Sylvia and Gary stayed at the hospital and held her for hours at a time so she could develop into a healthy baby. Despite the many dire predictions of cognitive and developmental disabilities, their daughter Thai is applying to college this fall. Gary goes on to say "At some point during the hospital days, Sylvia noticed many babies did not have the benefit of being held. Their parents were either working or unable to make it to the hospital for various reasons. Syl said one day, 'Ga, when I retire, I'm coming back here to hold the babies who don't have the chance of being held, just spending whole days holding them and rocking them and feeding them.'"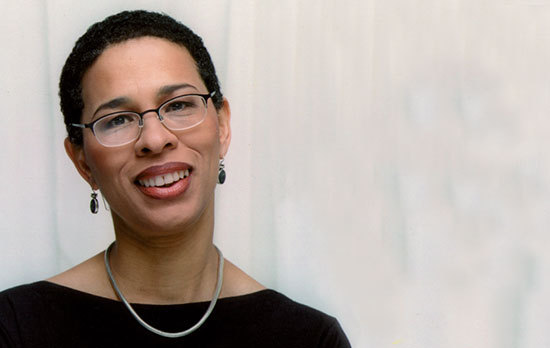 The Sylvia Harris Citizen Design Award Award Finalists
Click on the project titles for a link to a short case study.
André Pérez
America in Transition
A documentary shorts series with accompanying educational materials about issues impacting silenced minority and rural transgender communities.
Quardean Lewis-Allen, Made in Brownsville
Be on Belmont
Engaging young people to develop and implement creative interventions for a neglected commercial corridor in Brownsville and under-served community in Brooklyn, New York.
Amanda Schacter and Alexander Levi, SLOArchitecture
Boone Room
Documenting and celebrating street-art slated for demolition in the Bronx, New York with events and an engaging community pavilion. In addition, the project empowers youth through technology, design and construction.
Priya Ganadas, Linh Thi Do, Alex Surasky-Ysasi and Rajlakshmee
Satellite Shelter
A collapsible, single-person shelter to help organizations provide temporary shelter for homeless individuals. The shelter has an inner structure to insulate the user from cold and an outer shell for protection from wind, snowfall and weather.
In the spring of 2016 we will announce the 2016 Sylvia Harris Citizen Design Award deadline. For more information click here.
Watch this short video to learn more about Sylvia Harris.